From 16 to 20 May in keto, Held the Global Conference on Space for Emerging Countries (GLEC 2022), which aims to actively engage emerging countries in the space landscape, highlighting the social and economic benefits of space applications; By understanding different financial models to get the best sources of resources, as well as identifying technology and skills transfer opportunities.
SpaceX chief expects humanity to reach Mars in less than 10 years
Read more
Among the speakers stand out President of the Italian Space Agency since 2019, Giorgio Sacuccia. He has worked in different agencies such as the one in Holland where he has been for 30 years and during his visit to the country he will talk about the study of space and tell us about the experience that most developed countries have on the subject.
All over the world, interest is growing every year to get a file space agencyAt least 30 countries have one of these, according to Saccocia. "There are countries that started United StateRussia and others from Europe, among them France, Italy and Germany as pioneers on that continent, others that we can highlight as well are emerging countries like India and China that have ventured into this topic in recent years," he says.
The expert believes that Ecuador The conditions exist to study space with all that that implies, but he says it all depends on the Ecuadorean government and its interest in owning a space agency. "The aim of the various conferences is to raise awareness about Basic Infrastructure Requirements necessary to achieve national space programs and to raise awareness of the basic legislative and policy elements that must be taken into account when laying the foundations for national space programmes.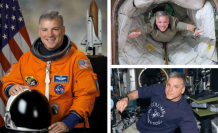 Gregory Johnson: "We want Ecuador to be a destination for space training"
Read more
How will this benefit Ecuador? "All of this will benefit the country because there will be more contact with countries that have a space station."
What will be investigated? "Investigations that could be conducted if agreement were reached range from supporting growth to studying the territory, emergencies and sustainable development through data from Earth Observation."