Details

Written by Yuset Puig Pupo/ Photos: Reynaldo López Peña






Views: 76
Las Tunas.- With the presence of the highest authorities of the province, a commemorative act was held in this city to the Cuban Science Day where the scientific results obtained in the territory and the innovation during the year 2021 were recognized.
At the event, several institutions and companies were awarded for the performance of their functions in favor of the development of science, technology and innovation, including the Las Tunas University and the University of Medical Sciences, the Pesquera (Pescatún), the Stainless Steel ( Acinox), the Cuban Association of Agricultural and Forestry Technicians (Actaf) and the business group Labiofam.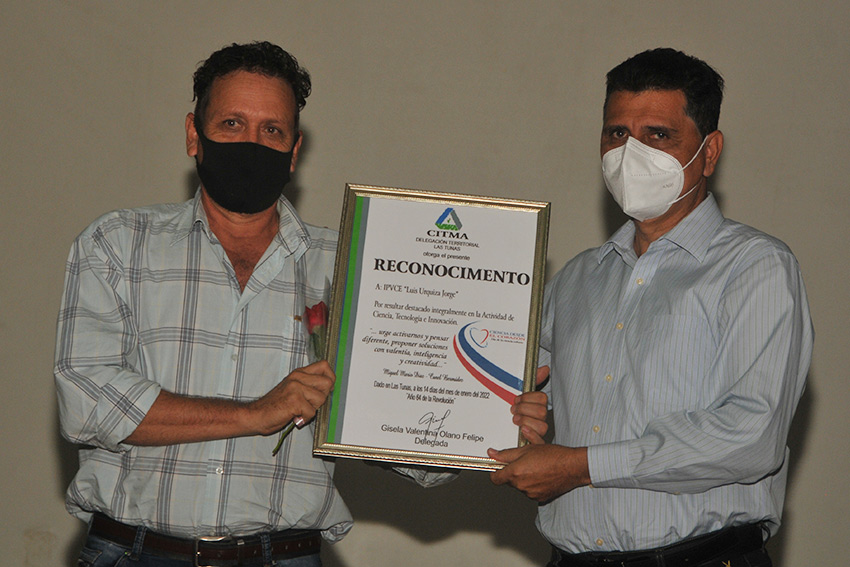 The Luis Urquiza Jorge Vocational Pre-University Institute of Exact Sciences was recognized for the contribution of its teachers to scientific work as well as its projections always in favor of innovation. The Provincial Meteorological Center and the Jesús Menéndez Municipal University Center were also recognized.
The Calixto Sarduy Agricultural Production Cooperative received congratulations as it has become a paradigm within the sector that advocates continuing to use science and technology and agricultural innovation in favor of production processes. The use of organic fertilizers is put into practice on its properties and it is currently immersed in the completion of a biofertilizer plant.
The municipality of Jesús Menéndez was the most outstanding in the scientific activity of the year 2021. In addition, the contribution of young people who stood out in scientific work, belonging to the Youth Technical Brigades, was recognized.
The Provincial Health Directorate received special recognition for the dedication of all its workers in the confrontation with Covid-19.
Every January 15, the Cuban Science Day is celebrated. The date was instituted in 1990, coinciding with the 30th anniversary of the historical leader of the Revolution, Fidel Castro Ruz, outlining the role of such an important branch in the development of the country.