The facility now has an area of ​​14,000 square metres, incorporating new spaces, such as Siman Bistro, a beauty salon and a barbershop. It is the most emblematic branch of a brand with a regional reach and a history of more than 100 years.

November 10, 2023 – at 22:31
Almacenes Siman has fully reopened the doors of its branch in La Gran Vía, "the most emblematic" of the brand, according to the company. After a long process, the facilities were expanded by 2,000 square metres, so the store now has an area of ​​14,000 square metres.
It's a comprehensive "floor to ceiling" redesign. The client will now be greeted with a new, modern facade featuring black and white geometric shapes, designed by Mexican architect Miguel de la Torre. It has an advanced lighting system, allowing it to light up in the most diverse patterns, including precisely following musical rhythms. This was evident at yesterday's opening ceremony, where a rainbow accompanied the tones of Salvadoran pianist Andres Angel.
The branch, which was opened 20 years ago, employs 400 employees and is the branch that receives the largest number of customers in the entire chain. It will have new digital displays in all departments. This will allow users to explore an expanded catalog of products available on siman.com, which are in addition to those found in store, with the option to choose how and where they would like to receive their purchases, either at home or through "click and collect" zones.
"The expansion and modernization of our La Gran Vía store is a clear reflection of our passion and dedication to serving our customers and contributing to the progress of the communities in which we operate," said Juan Pablo Galvez, CEO and CEO of Almacenes Siman.
The company has become an icon of retail sales, which is technically known as retailing, which focuses on the end user. In this regard, the brand led the category in El Salvador, due to its ability to offer multiple products within the same establishment.
One characteristic of this type of company is that by establishing a direct relationship with customers, it is easier to build loyalty and make them trust the brand with their regular purchases. Almacenes Siman has achieved great success in this field, being recognized as a seller of high-quality products.
"We take great pride in innovating and staying at the forefront of retail, which is fundamental to economic development and job creation in Central America," Galvez added.
"Almacenes Siman extends an invitation to rediscover its branch in La Gran Vía, a place where service traditions meet modernity to offer an unparalleled shopping experience," the company wrote in the reopening statement.
Visitors will now be able to enjoy new concepts and services, such as a high-end beauty salon, an exclusive barbershop, Café Siman, which serves culinary delights such as gelato and selected drinks, and the innovative Bistró Siman, an avant-garde restaurant featuring a selection of cuisine. la height, which promises to become a reference point in the local gastronomic offer.
In addition, the store has improved infrastructure with new seating areas and a greater number of checkout points for faster and more efficient customer service.
"What I have always believed is that a company that does not change every day, that does not improve, that does not evolve, that does not look forward, for example digital transformation and modernization of its facilities, will die; the one that does not grow dies," declared the former CEO. And the company's CEO, Ricardo Seaman, in an interview following his announcement of his retirement after 53 years in the position.
He is now replaced in this position by Juan Pablo Gálvez, a graduate of the Rafael Landívar University of Guatemala and who holds an MBA from Schiller International University, in Tampa, Florida.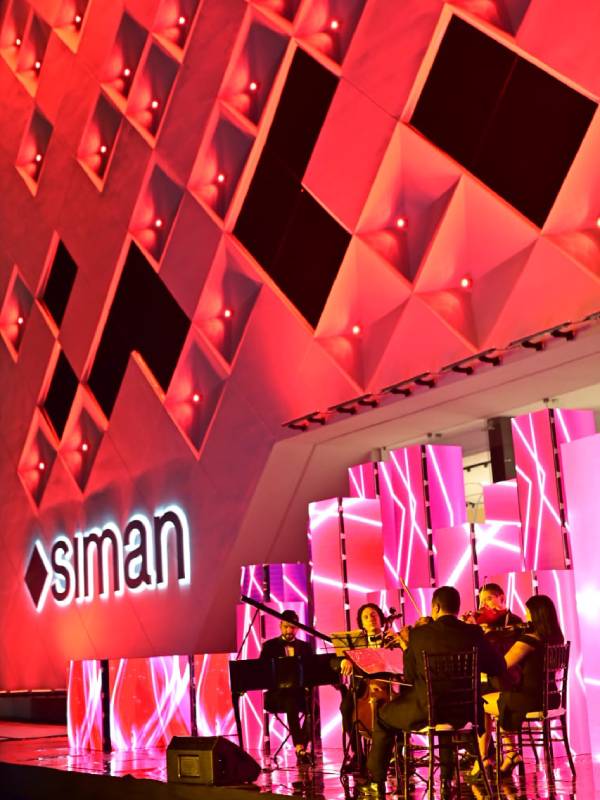 Centennial tradition
The famous warehouse was founded on December 8, 1921. It has been 100 years and not even social or economic crises have been able to slow down its growth. Ricardo Seaman, its former CEO, proudly recounted the company's beginnings in a note published by El Diario de Hoy in the context of its first centenary, in December 2021.
"My grandfather sold fabrics and other products. He started selling oils and other things for variety. The first store was in one of the gates in central San Salvador," the businessman said.
A few years later, the store moved in front of Hula Hula Park, adjacent to the American Pharmacy in the center of the capital. In 1969, the family decided to build the first building on Rubén Darío Street. This was the first department store in the capital, which took the idea of ​​famous New York department stores that had previously used the concept.
The brand has endured despite the vicissitudes of time. The latest was the Covid-19 pandemic: the quarantine forced them to rethink ways of working and innovate.
"The pandemic hit us hard, we were closed for five months, we had to close the physical stores and the virtual store, but it was also an opportunity, because we discovered shortcomings and discovered opportunities to venture into them and one never stops improving and transforming," said Ricardo Seaman during ENADE in November 2021. .
Al-Masinis Siman today is a reference. Currently, it has 15 stores in Central America: six in El Salvador, five in Guatemala, two in Nicaragua and the same number in Costa Rica. Thanks to its alliance with the Spanish company Inditex, it operates 48 Zara, Pull and Bear, Bershka, Stradivarius, Oysho and Massimo Dutti stores in the region.
I have tried to stay ahead of the curve, in keeping with the spirit of the times. An example of this is its online store, which today has thousands of visits and represents a notable trend of growth and innovation. Customers can browse 24 hours a day, 7 days a week from various electronic devices and from anywhere.