It can be built with light. Doing it for an eye clinic requires extraordinary ingenuity. Gon Architects sign this feat north of Madrid. This is a spatial design that, however, looks graphic. A graphic that touches the user. The 1,184 holes punched in the metal plates that line the entrance area of ​​the Institute of Ocular Microsurgery (IMO), in the Mirasierra neighborhood of Madrid, function as lamps and, at the same time, as a finish for the interior walls. They do not provide more than a void and, nevertheless, they transform the space with plays of light: a luminous shelter that illuminates and does not dazzle.
The project is lighting. And the lighting not only illuminates, it is also felt: it envelops the patient, it welcomes him. 17 metal boxes contain 1. 184 methacrylate lenses. The encapsulated circuit of LEDs visually expands the space and imposes calm in the environment. A line of LEDs connects the panels with the floor (made of large porcelain stoneware pieces) and the ceiling. The architects thus get the impression that lighting floats in space.
Only two curved furniture, made to measure in Krion® – a non-porous material resistant to bacteria made with mineral powder and resins – occupy the lobby and reinforce its dreamlike appearance. The bench hides a column and serves as a table on one side and a seat on the other. The reception desk organizes circulation.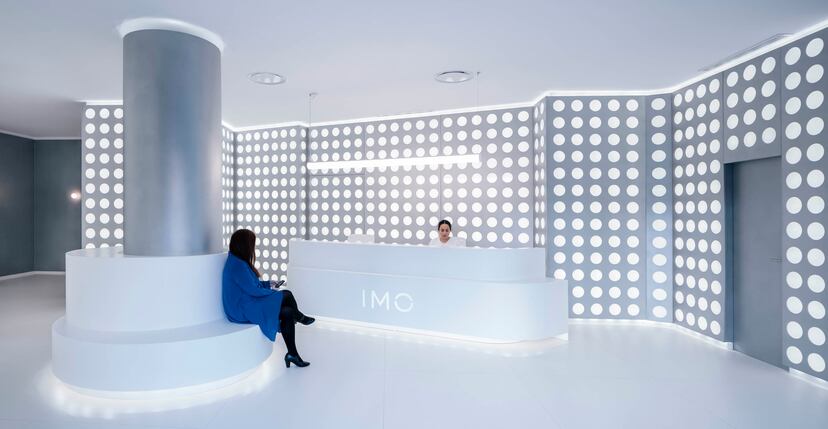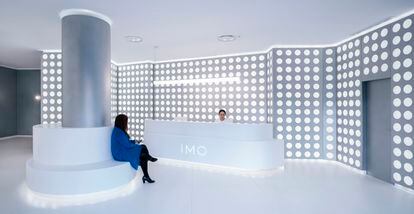 The result has a groundbreaking appearance, it seems the materialization of a state-of-the-art technology. However, it refers to the artisan world, to the hand finishes that characterized the avant-garde designs of the first modern ones. As happened with the Barcelona armchair, by Mies van der Rohe, or with the Wassily chair, which Marcel Breuer devised, the hand of the craftsman is, in this project, as important as the architects' calculations. And the hand is that of the passionate blacksmith Alberto Iglesias "unable to retire despite his 70 years, and passionate about each new challenge," says Gonzalo Pardo, the studio's founder. "In the end, in an eye clinic, cutting-edge technology is used with the hands and the sick are cured." Something similar happens here: it is craftsmanship that humanizes lighting and makes the most of it by distancing it from the soulless machine world that modernists also defended.